Cross posted on
UTI
Cindy Sheehan is founder and President of Gold Star Families for Peace. Before the death of her son, Cindy describes herself as "an average American mom. I have 3 other children: Carly, 24; Andy, 21; and Janey, 19. Since he was killed, I have become a tireless advocate for peace, to expose the lies of our administration, to wake the American people up before it happens to them, and to bring our troops home from the nightmare in Iraq. I was a Catholic youth minister for 8 years. Now being a peace activist is my full-time job."
Some of this interview is a little painful, especially if you know Cindy personally. This thing has pretty much destroyed her family and her life. Just FYI.

DarkSyde (DS): Your son, Army Spc. Casey Sheehan, was deployed to Iraq in the spring of 2004. When and why did Casey join the military? What did you think about his decision?
Cindy Sheehan (CS): Casey joined the Army in May of 2000. I was devastated. He was 21, he didn't discuss it with us.<!--break-->
DS: Devastated? Why?
CS: Because he would be leaving home ... we are not a military family and we really didn't understand his enlistment.
DS: How did Casey feel about going to Iraq?
CS: He didn't want to go. He felt the war was wrong and did not support George Bush, but he felt it was his duty to go.
DS: Then he was killed? Where and how?
CS: He was killed in Sadr City, Baghdad in an ambush on 04/04/04 ... 5 days after he got there. The date was called Black Sunday in the press.
There were seven others KIA in that ambush: Spc. Robert R. Arsiaga, 25, San Antonio, Texas: Spc. Ahmed Cason, 24, McCalla, Alabama: Sgt. Yihjyh L. "Eddie" Chen, 31, Saipan, Mariana: Spc. Israel Garza, 25, Lubbock, Texas, Spc Stephen D. Hiller: 25, Opelika, Alabama: Cpl. Forest J. Jostes, 22, Albion, Illinois: Sgt. Michael W. Mitchell, 25, Porterville, California; and perhaps as many as fifty wounded although the exact number is not known with confidence.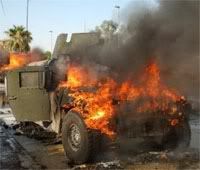 Humvee burning after BlackSunday
attack in Sadr City.
DS: When and how did you get the news?
CS: Casey was killed early Sunday morning, and I found out about 9: 00 PM on Sunday night. I was walking my dogs and I was so worried about Casey because I saw that 8 soldiers had been killed in Baghdad and I saw the film of a humvee burning. When I came home from walking the dogs, their were 3 army officers standing in my livingroom.
DS: What happened next?
CS: I collapsed on the floor screaming. Then it was 10 days of agony before we buried him and then everyday is full of pain and emptiness.
DS: I've seen it said that perhaps one factor which contributed to Casey's death was the flak jacket he was wearing or the armor in his vehicle, where did he get hit physically and could his armor, personal or on his vehicle, have made a crucial difference?
CS: He was shot in the head, but he was wearing a jungle cammie flak jacket with his desert cammies. He was in the back of a trailer when he was killed ... an LMTV [DS: Light Medium Towed Vehicle]. A Marine back from Iraq started crying when I told him Casey was riding in the back of an LMTV So, yes, better protection could have saved his life.
DS: You've said that the recruiter misled Casey in some way, what is your understanding of this?
CS: He was promised 5 things by his recruiter that didn't come true:
20,000 signing bonus (he got 4500.00)

he could finish college in the Army..they would never even let him take a class.

he could have a lap top computer to take classes....he never got one.

he could be a chaplain's assistant..when he got to boot camp he was told that specialty was full and he could be a humvee mechanic or a cook...he chose to be a humvee mechanic.

And...since he scored so high on the ASVAB test, he would never have to go into combat...even if there was a war...well we all know what happened to that one.
DS: How are your three other children coping with Casey's death and do they have any issues with the role you've assumed as a critic since that tragedy?
CS: Carly the oldest has coped by throwing herself into school. Andy is coping by becoming Casey. Janey is coping by drinking and partying.
Unfortunately, I am not able to help them that much because of my pain, and because I feel so compelled to fight the injustice and bring the troops home.
I know they believe that what I am doing is right, but they wish we weren't in the situation, as do I.
DS: Tell us about how you came to be a sort of celebrity?
CS: Not sure. I just work my ass off trying to end the war. Before I was contacted to do my first national media (good morning america from DC on Inauguration day) I had already done so many print interviews, radio interviews, local TV interviews, that I was not nervous at all. I had also been on ABC and CBS evening news. I am not nervous at all and never have been. GMA contacted me because of my outspokenness against spending millions of dollars for the Inauguration party while we are at war.
DS: What are the qualifications for membership in the Gold Star Families For Peace?
CS: You have to have a loved one killed in a war.
DS: Yikes ... Have you been an activist in the past? Say during Vietnam?
CS: I was in elementary school and jr. high school during Vietnam. I have never been an activist before.
DS: You were an activist or you were too young to play a part?
CS: I was too young to even know where Vietnam was.
DS: I take it you've received some hate mail and phone calls. What's the worst thing that people have said to you? Follow-up: What's the thing people have said to you that hurt the most?
CS: I hate it when people call me a traitor, or unpatriotic ... they have no idea what true patriotism is. I've been called an effin whore, a cunt, you name it. One man told me he wished that my other 3 children would die. That hurt me and scared me.
DS: To your face or on the phone or how exactly was that brutal message delivered, and how are most of the more hurtful comments brought to your attention?
CS: It was by email and most hurtful comments are by email ... or on the radio when I am doing interviews.
DS: What do you think true patriotism is?
CS: Seeing that there is something wrong in your country and in the world and trying to make the country a better place.
DS: Have you lost any friends or family over this? OR, how do your husband and neighbors feel about your sudden rise to prominence in the media and the role you've accepted in those venues?
CS: I have lost almost every friend that I had before Casey died. My husband and I are separated, because he doesn't support my activities, although he knows the war is a lie.
DS: Is it because your community is mostly Republican or they support the war or what exactly in your opinion? Have any of them explained why they feel this way about your role and if so, what do they say?
CS: We live near an Air Force base and our economy depends on war. It is a very conservative, republican community. White upper-middle class.
They believe that Bush is keeping our country safe and that I am a traitor for speaking out against a President during time of war.
DS: Have any of Casey's fellow soldiers, in his unit or in the attack in which he was killed contacted you? If so, can you tell us about any of those conversations, good or bad?
CS: I have had a few emails. People telling me about the day he died. I had an email from the mom from Casey's old roommate who said she supports my work and is afraid that her son has to go back.
DS: Is it all possible that your personal tragedy is affecting your ability to think critically about the value of the war in Iraq?
CS: No, because I saw no value before. Also, I would ask back ..."What Value?"
DS: Well, some would say that removing a brutal dictator who tortured his opponents and their families, committed genocide, and giving the people of Iraq a shot at freedom and democracy has some value. How do you respond to those points?
CS: He was their brutal dictator. There are so many brutal dictators in the world and we are not removing them. We propped Saddam up and gave him weapons to gas his own people.
Besides, Bush gives the reason that we were attacked on 9/11 because 'they hate freedom and democracy', so why are we trying to force something on them that they hate? The country is demolished and so many people are dead for something they never asked for.
DS: A lot of folks seem to have their faith somehow wrapped up in supporting this War or supporting George Bush. Can you provide any insight as to how that works and what do you think about that as a religious person?
CS: I believe that supporting war and killing is anti-gospel, anti-religion, and anti-Christ.
DS: If you could say something to the soldiers in Iraq right now, what would you tell them?
CS: I am so sorry we Americans allowed our government to misuse you this way.
Refuse to kill innocent people. Please come home safely to your family.
DS: You've seen a bit of how blogs are used, and this will be read on blogs, how do you feel about the blog venue and/or the Internet in general. Has it helped or hurt your cause?
CS: Since the main stream media is such a propaganda tool for the government, the Internet is essential for learning the truth. I have been able to spread our message thru the Internet and our group has grown just from people reaching us on-line. I was pleasantly surprised with the warm welcome on the Daily Kos when I first posted there. And besides, that's how I met you!!!

Casey Sheehan. 05/29/79 - KIA, Iraq 4/4/04